The show must go on(line) part 3…
Like all good franchises, this series is back for another instalment! It could run and run…
Following Government advice The Elgiva is now closed; to keep you ticking over until we can welcome you back through our doors, we have rounded up A THIRD carefully-curated selection of theatrical and musical treats you can enjoy from home – so #staysafestayhome and soak up some incredible shows online…
Check out part 1 of our suggestions HERE and part 2 HERE.
---
National Theatre At Home
OK, I know we have mentioned this before, but it's so good, I am mentioning it again. NT Live is showcasing a wonderful range of plays, releasing one each week at 7pm on Thursdays. They are free to view and each is available for seven days.
Over the coming weeks you can expect a variety of brilliant plays, including:
Available now – James Graham's thrilling political drama, This House. It had two sold-out runs at the National Theatre and a West End run.
4 June – Shakespeare's Coriolanus. Don't miss Tom Hiddleston's incredible performance in this Donmar Warehouse production.
---
Glyndebourne Open House
Can't go to Glyndebourne? Well, let Glyndebourne come to you! A new opera released free to stream for week every Sunday at 5pm. Don Giovanni is available right now, and coming soon:
7 June – Così fan tutte by Mozart
14 June – Vanessa by Barber
21 June – Rinaldo by Handel
---
Broadway Musicals from The Lincoln Center
Available to stream in the UK, the "Broadway Fridays" series will kick off on 5 June, streaming Rodgers and Hammerstein's Carousel. This will be followed by Douglas Carter Beane's The Nance, and James Lapine's Act One. Their YouTube channel has a whole host of other goodies, too.
---
Bristol Old Vic
Bristol Old Vic has announced that it will stream three shows for nothing over the coming six weeks. Each show will be launched on the Bristol Old Vic's website on Friday evenings at 7pm and will be available for a week.
29 May – Messiah, directed by the venue's artistic director Tom Morris. Transforms Handel's composition into a stage production, it features performances from soloists Catherine Wyn Rogers and Julia Doyle, The Erebus Ensemble, The English Concert and actor Jamie Beddard.
7 June – A Monster Calls, adapted from Patrick Ness' novel.
26 June – The Grinning Man, the hit musical based on Victor Hugo's The Man Who Laughs, penned by Carl Grose with music by Tim Phillips and Marc Teitler.
Further titles are set to be announced.
---
Opera North
Lots of delights on their YouTube channel, from short orchestral jollies to full-on Wagner.
---
Hamilton
This one isn't free, you'll need Disney Plus, but it does mean you can be in the room where it happens! A filmed version of the original award-winning Broadway production created by and starring Lin-Manuel Miranda, which tells the story of Founding Father Alexander Hamilton. Disney Plus is £5.99/month, but it does offer a free seven-day trial. Hamilton drops on 3 July, so get the date in your diary! (The Mandalorian is pretty cool, too.)
---
Glastonbury Festival Online
Camp out in the sitting room and enjoy some spectacular Glasto highlights. Later this month, BBC Two, BBC Four and BBC iPlayer will show classic Glastonbury performances in full from some of the biggest artists in the history of the festival, including Adele (2016), Beyoncé (2011), David Bowie (2000), which will be the first time that performance has ever been broadcast in full on television, Coldplay (2016) and Jay-Z (2008). There will also be a pop-up BBC Glastonbury channel.
---
101 Things To Do In Lockdown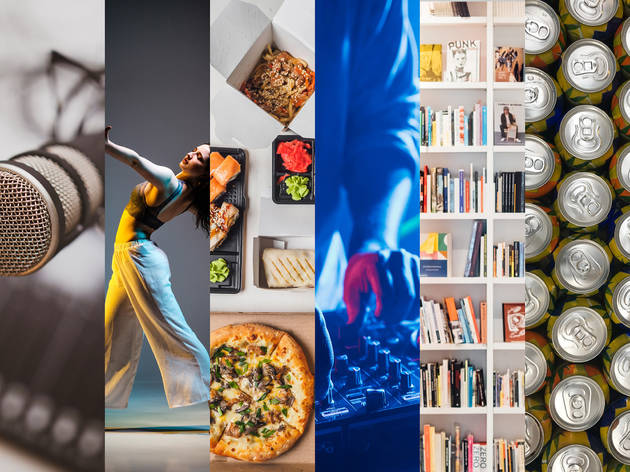 A great list from Time Out In. For when you fancy something a little bit different…
---
Buckinghamshire In 100 Objects
And don't forget to take part in shaping our county's legacy!
---
Lockdown Stories
Read – and submit – lockdown stories from all sorts of writers and would-be writers in Buckinghamshire.